With the success of the "classic taverns" page, Biniasz.com has expanded the tributes to fallen waterholes of the past. Thanks to the many former tavern owners and thier families for contributing to this page.

______________________________________________________________________________

Owner of Club Romway Passes Away- 2/3/05
A private service for Peter A. Niciszewski, who owned a well-known Buffalo tavern for 60 years, was Sunday. Mr. Niciszewski, whom friends and customers of Club Romway on Broadway called "Mr. Pete," died Jan. 26 in Erie County Medical Center after a brief illness. He was 90. A North Tonawanda native, he graduated from North Tonawanda High School and Alliance College in Erie, Pa. He was a tool-and-die maker for Vebelohoer Bros., which made warplane parts during World War II, before he and his late brother-in-law, Ray Raczyk, opened Club Romway on the East Side in 1945. The bar operated until Mr. Niciszewski became sick in December. Over the years, he and his wife, Stephanie, who died in 1991, became known for their commitment to promoting country and western music in Western New York.
______________________________________________________________________________

NAWROCKI'S GRILL, 1265 Broadway
Nawrocki's Grill, 1947. Owners Helen & Chester Nawrocki
By the fall of 1945, the celebrations that marked the end of World War II had ceased. Americans quickly began to look for ways to return to a sense of normality. East Side resident Chester Nawrocki saw prosperity in his future. Like many during those years, he was involved in the war effort working at an East Side plant that made a product (tallow) used in the production of ammunitions. With business nearing an end, Chester set his fortunes on the tavern trade. In November of 1945, Chester and his wife Helen opened the doors to Nawrocki's Grill located at 1265 Broadway. The little tavern would soon become a center of neighborhood political and social activities what would last for 30 years.
Chester Nawrocki grew up on Schmarbeck Street located off Broadway in the St. John Kanty's Parish area. His future wife, Helen Falkiewicz, grew up one block away on Rommel St. A lover of baseball, Chester played catcher and 1st basemen on local teams sponsored by East Side businesses that included Ferry's Dairy and Zoladz Lumber on Bailey Ave.
"My Parents met when the girls in the neighborhood would see the boys' baseball games at the local playground," recalls Doreen Nawrocki, daughter of the owners. "After the games they would attend team sponsored parties in the backroom of corner gin mills. When funeral wakes were held in private homes, Helen's mother took her to my father's house when my father's mother died."
Married at St. Joachim's Church in 1940, the couple gave birth to their first child in 1942. The Nawrocki's would raise a total of six children while tending to the daily tavern business.
The location of the tavern was on a heavily traveled section of Broadway consisting of well maintained small business, light industrial buildings and railroad tracks that feed the busy Central Terminal. From this section of Broadway you could see the Terminal's clock tower that loomed over the neighborhood as well as the steeples of St. Adalbert's. Surrounding businesses included Skowron Press, Kaminski's Deli, a typewriter store and a tailor. Nowak's Bar and Boarding House was across Young Street and Jakiel Lumber Yard was open for business near the viaduct at Memorial Dr.
Common with many taverns, the Nawrocki's lived "over the tavern." Additional space in the small building was rented out to boarders who were frequently older gentlemen. There were no paid employees at the Grill as the Nawrocki's relayed on family members to keep the business staffed. Parents, in-laws and Chester's brother Alfred, a decorated WWII veteran, gave the Grill a family atmosphere. In the kitchen, Nawrocki's Grill featured daily homemade soups (oxtail, borsch, and czarnina), pierogies, hamburgers and the classic East Side fish fry's.
Although the tavern business provided sufficient revenue for the family, Chester earned extra income working for the New York Central Railroad and Helen worked part time as a banquet waitress. In later years Helen earned her college degree and became a school teacher. She taught in West Seneca until she retired in 19**.

The 6th Ward Republican Club met at the bar once a month as Chester was a district committee man. Leonard Gramza, owner of a cigar store located at 1433 Broadway, was its President. The tavern also sponsored a social organization named Nawrocki's Booster Club (later named the Silver Dollar Club). There were monthly meetings and numerous social events including summer picnics at local groves and large children's Christmas parties in the bar's backroom.
"My fondest memories were the great parties that the tavern hosted," remembers Doreen. "My brothers and sisters were responsible for decorating three live Christmas trees. One in the bar, one in the backroom and our family tree upstairs. There were always lots of great people around and many of our boarders, who were almost like family, I remember to this day."
With Chester's passing in 1969, Helen continued to run the business until 1974 when it was sold. Today the building still stands occupied by a Chinese restaurant. Helen is 84 and currently resides in West Seneca.
Location of Nawrocki's Grill.
New Years' Eve 1958. Pictured Left to right around the bar include Diane Hogan, Ann Hogan and Ed Hogan, (unidentified blonde), Eddy and Florence Pokorski, Teddy Frey, Theresa Jablonski, Frank "Kelly" Jablonski and in front of him Mary Frey. On the end is Helen and Chester Nawrocki.
In front of Nawrocki's Grill during the 1953 Pulaski Day Parade. Standing left of the wheelbarrow is tavern owner Chester Nawrocki. Frank "Kelly" Jablonski is seated in the wheelbarrow. Son Peter, the young boy with the snazzy clothes, stand on the right. The election of Mayor Steven Pankow, the first Polish-American Mayor of Buffalo was a big deal on the Eastside. Note the copy of the Polish newspaper "Everybody's Daily."
_____________________________________________________________________________

KANTOWSKI'S KANTEEN - Buffalo, New York
Kantowski's Kanteen, November 3, 1953. East Buffalo candidate Steven Pankow celebrates his election win in the race for Buffalo mayor. Pictured: Mary Kantowski (holding the champagne) is toasting the Mayor-elect with Mary Pankow
For many decades, the tavern trade was a cherished family vocation passed down from father to son, never to leave the family. This continuity in ownership resulted in a trusted sense of community not found in modern day establishment.

One such neighborhood bar dynasty dated back to 1895 when Peter Kantowski opened his first saloon at 24 Sweet Ave. In 1897, he moved to 361 Peckham St and in 1911 he relocated again to 607 Fillmore Ave. near Lovejoy St. (now Paderewski Dr.) After Peter's death in 1925, son Walter took over the business which once again moved to 235 Lovejoy after the Filmore site was razed to accommodate increased traffic for the new Central Terminal. Brother Ed managed the business for the family after Walter passed away in 1942.



Peter Kantowski's Saloon located at 607 Fillmore Ave 1926

In 1947, Ed opened his own location in the shadow's of the Terminal at

350 Paderewski Drive

. Like the family's previous locations, Kantowski's Kanteen quickly became a powerful social and political center of Polonia. It was also favorite stop for Western New Yorker's arriving and departing from the nearby Terminal.

Always looking to increase business, Kantowski purchased one of the Eastside's first television sets. "The giant screen TV in our ads was only 16 inches," remembers Ed Kantowski Jr. "Besides the World Series and other big events, Tuesday night was busy at the Kanteen because Milton Berle's Texaco Star comedy show was on the air. We had TV at the bar before we got one at home!"

Mary Kantowski passed away in 1970. Losing interest in running the business, Ed sold the tavern in 1972 to Bob & Dennis Rossler who ran the location for several years.

A very special thank you to Ed Kantowski Jr. for sharing his family's history and for sending along these great photos of days gone by.



Buffalo's First Advertised Sports Bar?
______________________________________________________________________________

ADAM'S TAVERN - Buffalo, New York
Adam's Tavern, Buffalo, New York, 1933. The regulars returned to Adam's Tavern, 1012 Sycamore (at Loepere) to hoist some brews and, it would appear, a shot or two as well shortly after the repeal of Prohibition in 1933. Adam Pilarz, proprietor, stands behind the bar along side his son John. The family ran the tavern from 1924 until 1949. Thank you to Ed Pilarz for sharing this priceless family picture.

______________________________________________________________________________

BRAMER'S GRILL - Niagara Falls, New York
The German Hotel a.k.a. Bramer's Grill 1895.
| | |
| --- | --- |
| 1402 Main Street in Niagara Falls, New York. Bramer's rates high in all "classic tavern" categories including urban location, Genny signs in the front window and a suspended in time interior. | Aged woodwork is not limited to the bar. Bramer's was passed over by the moderization of the 60s and neglect of the 70s & 80s. The current owner Harold Jeffs has taken great steps to keep the tavern "tap ready" for future use |
Bramer's Tavern - 1402 Main Street at Pierce Avenue - Christopher Hiller. Jr. built this tavern between 1875 and 1886, and operated it until his death in 1911. The next to own it was his son-in-law Jacob Soell until his death in 1932. John F. Bramer, Jr. took over the tavern until his son followed him in 1961. The tavern closed in 1993 and has been kept "keg ready" by Bramer's step son Harold Jeffs.
The two story wood frame Italianate structure has been kept almost entirely in its original form. The exterior clapboard has been covered with shingle, the wood floor covered with linoleum and modern light fixtures installed. The original bar with foot rail remaining as well as the original tables which were built by local Niagara Falls carpenter Jacob Kilberer.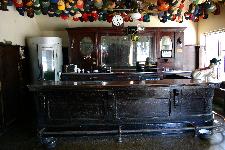 The preserved saloon bar of Bramer's Grill in 2004. Compare bar to vintage 1895 picture below. Tavern features one of the best preserved barbacks in WNY. Note the Bevador cooler and spittoons near foot railing.
Another view of historic bar back

Current owner and caretaker of history, Harold Jeffs

Classic tavern layout: Small tables, men's room up front, etc.

Bramer's bowling team information from Dec. 1940

Card table with Niagara Falls advertising.

Over 125 years of good times centered around the bar at Bramer's

Patron "Hall of Fame" dating from the 1980s. Large picture in center is Jack Bramer

Classic Bar at Bramer's, Niagara Falls

View from backroom looking towards Main Street.
______________________________________________________________________________

Rauch's Tavern was located 2720 Seneca Street. Tending bar was John Martin.
______________________________________________________________________________

| | |
| --- | --- |
| Dick's Eastside Inn, 2003 | Alice's Bar & Grill, 221 Lombard St., Buffalo in the early 1940s. Corpus Christi Chruch is off to the right. The picture is taken from the Broadway Market which is directly across the street. The bar is still open as Dick's Eastside Inn. Visit the "Classic Tavern" section of the website to get look inside! |
All contents of this site © 2004 by Martin Biniasz. Some images and text used throughout the site are protected by individual copyright holders. No content may be copied or reused without written permission from Martin Biniasz. Please contact me at Rocketship7@aol.com with questions.
_____________________________________________________________________________

All contents of this site © 2020 by Forgotten Buffalo. Some images and text used throughout the site are protected by individual copyright holders. No content may be copied or reused without written permission from Forgotten Buffalo. Please contact us at ForgottenBuffalo@aol.com with questions or comments.