Main Hall looking towards offices (Fillmore Ave.). Windows on second floor are for the tasting room/bar.
Loading dock area
Main Hall looking towards Fillmore.
Ceiling in front office area.
Tasting Room; second floor
Windows look down to floor of Main Hall
Tasting Room; old records call this the "Mural Room."
Light fixture in tasting/mural room
View of first floor from stairway. Door on far left goes out to Fillmore.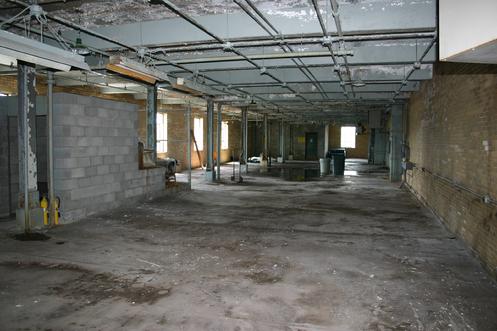 Second floor warehouse
View from second floor warehouse area
Fillmore Ave. from second floor
Second floor
Office; southeast corner overlooking Fillmore.
Stairs to second floor; corner of main hall.
Main Hall trust ceiling
Glazed tiled walls.
Main Hall; Mural Room windows towards back. Industrial crane is operational.
The main doors from Fillmore are right behind photo. This doorway leads to main hall
Stairway to second floor (right)
former safe
Detail found in front office; ground floor.
Belt system links three floors
Stairwell; window looks towards Fillmore.
View from second floor
All contents of this site © 2020 by Forgotten Buffalo. Some images and text used throughout the site are protected by individual copyright holders. No content may be copied or reused without written permission from Forgotten Buffalo. Please contact us at ForgottenBuffalo@aol.com with questions or comments.